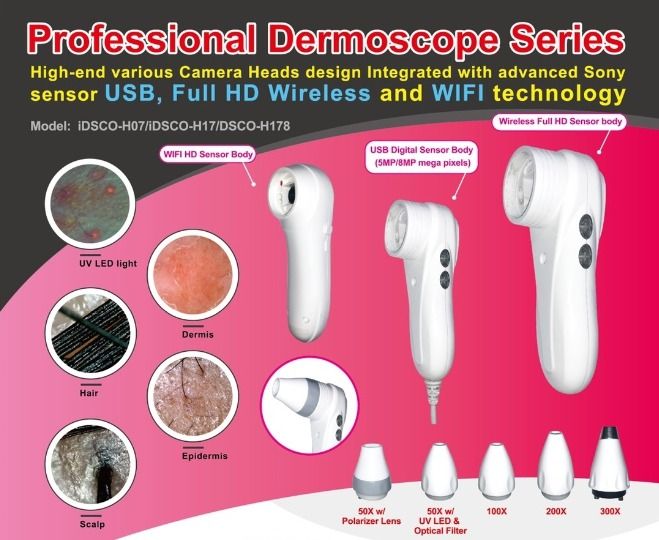 WIFI HD Portable Microscope for Skin is a professional equipment to check Skin clearly with bright LED light and Polarization light to observe Epidermis and Dermis of Skin, working w/ Smartphone, iPad and Tablet PC via WIFI.  Super Optical lens design: 50X Camera Head, 50X Polarization Light Camera Head and UV Light Camera Head are changeable for Option. Free APP loaded, APP Name: Micro Find available for IOS and Android. Snapshot and Recording button on device to operate easily, photo and video saved into APP; Quad Views/Two Views on screen to make photos comparison. 1280X720 High Definition Video quality displayed on iPad/Smartphone.
H.264 / HD new WIFI Technology to Smartphone/iPad
High-end Optical Lens design w/ one focus fixed.
Handheld housing design w/50X Optical Lens to check Skin
Camera Heads are changeable, Polarization Light, UV light for Option
Free App downloaded;APP Name: Micro Find
Quad-view on APP to compare four different photos or Two photos showed on APP screen together for comparison between Before/After using cosmetic.
Rechargeable battery built inside to keep 2-3 hrs working time.
Snapshot / Record button on Microscope device
Touch objects and get focus quickly, a good tool for Cosmetic people when they use it for customers.
Item

Description

Camera Sensor

1.3M CMOS

WIFI Video Streaming

H.264/720P @ 20 fps

Still Image Resolution

1280×720 pixels

Wireless Format

IEEE802.11 b/g/n standard

Photo Format

IOS: JPG;  Android: bpm

Video Record Format

IOS: AVI;  Andorid: H.264

Optical Magnification

25X on 9.7" iPad

60X on 20" Monitor

120X on 40" Monitor

Frequency Range

2.4~2.4835 GHz

Transmission Range

20M (open sight)

Focal Distance

2 mm (one focus without adjustment)

Rechargeable Battery

18500 Lithium-ion / 1500mah

Operational Temp.

0℃ ~ +55℃

Dimension

155 X 53 X 95mm

Weight

130 g

Power

DC 5V/1A (Micro USB type)